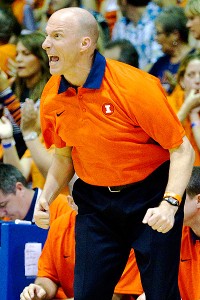 AP Photo/Eugene Tanner
Well Illini fans, John Groce and his boys from Champaign-Urbana gave everyone something to be thankful for this Holiday season.
An Illini men's basketball team that puts a great product on the court. And boy did they ever deliver!
In what turned out to be a tremendous Hawaiian vacation for these Illini ballers it has also given credence to the hiring of John Groce as head basketball coach.
The Illini, lead by Maui Invitational Tournament MVP Brandon Paul (pictured right), they went out to prove something to everyone that the basketball culture in Orange Krush country is going to be different.
They started the week with a heart stopping win against Hawaii that D.J. Richardson saved with a three pointer in the corner at the buzzer in overtime. They were down in that game by 16 and fought back never giving up and showing great toughness and grit.
That win and in that fashion almost seemed to jump start their run going forward in Maui.
They just blew doors off of the Univeristy of Spoiled Children (USC) with deft shooting and attacking defense. They really never knew what hit them.
The were then given a gift in playing the upset minded hosts, Chaminade, who took out a very young Texas squad the night before. This was again no match for this changed Illini team as they again never trailed going away.
The win earned them a chance at a championship and to get it would have to battle one of the best coached teams in the country. Not to mention beat one of John Groce's best friends in Butler's Brad Stevens.
The up tempo offense style and ball hawking defense smothered the majority of the Bulldogs and again the Illini with a balanced scoring attack never trailed and were crowned champion.
I am very proud to be an Illini fan today and will tell you I think the Illini have great things to come under John Groce. Having been a season ticket holder with Illini men's basketball for many years I have seen the Illini in many systems and coaching styles.
After watching this tournament run I have to believe prospective recruits are going to want to play in this system. He lets his players play and if you are open to shoot without consequence. They play in a normal rhythm and don't have that voice in the back of their head saying no.
This was really the case the last few years under Bruce Weber. His teams would hold the ball for 30 seconds of the shot clock and then scramble at times to get a decent shot off. He would bark at them and it was not being received well by the Illini players.
Groce is just the opposite. He plays a controlled yet free brand of basketball. It reminds me of when you are on the playground or in the gym playing pickup games and when you want to take a shot you do it without a feeling of being reprimanded.
Players on this team, like Paul, Richardson, Tracy Abrams, Tyler Griffey, Joseph Bertrand, Myke Henry, all have a different look about them. They look as if a load has been lifted from their shoulders and they can be themselves and play basketball.
There can't be enough said about a stress free feeling when you are playing a sport and wanting to do so at a high level. These guys seem to have an extra pep in their step. Tracy Abrams, (13), has grown leaps in one year and is a leader on this team. I can't wait to see more from this group.
The Illini seem tougher, more aggressive, and have the horses to run this style.
They do need to improve in several areas so I am not drinking the Kool-Aid just yet.
Teams that live by the three also die by the three. They will need to develop some semblance of an inside game and definitely rebound better as those shots won't fall like they were raining down in Maui all year long. They will also need to work on driving to the basket more too to open up the outside for their great shooters.
It will also be a change when league play begins as the Big Ten is loaded this season with quality teams top to bottom like top ranked Indiana and #4 Michigan. It will be a heavyweight fight night in and night out during the conference season.
I hope Brad Steven's is right when he was quoted after their loss last night as saying, "Anyone who thinks that's a middle-of-the-pack Big Ten team, I would argue with that."
It will take continued improvement and hard work and also a little luck to build on what they have started.
The foundation has been laid for what could be a very surprising and successful season in Illini land.
But as John Groce said after they were crowned Maui champions, "We're excited. We're not done. I think it's a tremendous start for our basketball program. But we can still get better."
The talent is there on this team and with the tremendous inroads Groce has made with recruiting in such a small window of time the arrow is pointing skyward again. He is selling this program and his style of play and it is paying off with a very good recruiting class as well, Rivals ranks them in at #10. He has signed kids from Chicago like Jaylon Tate (blue) and Kendrick Nunn (orange) out of powerhouse Simeon. He has grabbed a player out of Ohio in big man Maverick Morgan and now the East Coast with late bloomer Austin Colbert.
He is building relationships across the country. He wants to be a national brand.
He may not have won the popular vote when the Illini were searching for their new head basketball coach, but he has shown to this point that popular opinion can be wrong.
And in my mind I am glad they were.
Get out those sunglasses Illini fans because their future looks bright!