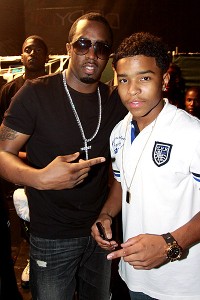 P. Diddy & son Justin Combs - Getty Images
The past few days there has been a significant debate on whether an athlete who's parent is wealthy should be able to accept a scholarship from a university. I can't even believe this is an issue. I stand by the fact of if a player is good enough to be recruited to play a sport then they should have the same ability to accept a scholarship regardless of their parents financial situation.
This debate began when Sean "P Diddy" Combs' son Justin Combs accepted a scholarship offer from UCLA to play football. The rap mogul who has amassed great wealth, $550 million according to Forbes, in the music business has been criticized by having his son take a scholarship worth $54,000 away from someone less financially stable.
I have a huge problem with this ideology as it is the student athlete who has worked for this great achievement and is bettering himself without a "handout" from his father. UCLA wasn't the only school recruiting him for his athletic abilities as others included Iowa, Virginia, and Illinois.
I also have a problem with this coming out now and with it really creating a double standard in regards to ethnic backgrounds.
I never once heard anything when Peyton and Eli Manning were scholarship athletes when their father could have paid their way. I am sure this year's #1 NFL draft pick Andrew Luck's family could have paid for his education as his father was a former NFL player and now current Athletic Director, but it shouldn't have to be that way. Austin Rivers, son of former NBA player and current Celtics head coach Doc Rivers, was a scholarship athlete at Duke this past year and there was no grumbling. Heck, Michael Jordan's sons have both at one time had scholarships in basketball from Illinois and Central Florida respectively. This from Mr. Air Jordan who owns the Charlotte Bobcats!
Jeffery Jordan
These players work extremely hard and I respect them for wanting to make a name for himself and not relying on their family for success. I don't know Justin Combs personally but he is the one who earned the scholarship with his hard work and dedication. His blood, sweat, and tears on the gridiron gave him this opportunity not his family's money. His accomplishments are not limited to being a good athlete but also being a good student with a 3.75GPA.
Merit based scholarships should be available to all players across all socioeconomic levels, period. It isn't taking away opportunities from other players in urban neighborhoods because they need to earn what they get too. I am not in the camp of giving handouts to people just because they are less fortunate in regards to receiving a free education. I also have no problem with Justin Combs accepting a scholarship when is father is the richest rapper in the country.
His father should have nothing to do with the university's decision to offer him this reward for his fine work on and off the field. And it is a reward.
At the end of the day Justin is a student athlete trying to better his life and setting a solid foundation for his future through football.
And he did it the old fashion way, HE earned it.